By Abdullah Bozkurt
Turkey's National Intelligence Organization (MİT), the main clandestine tool the government of President Recep Tayyip Erdoğan is using to transform Turkey into an Islamist and neo-nationalist dictatorship, received a whopping 248 percent boost in its active assets in 2017, a government audit report from September 2018 revealed.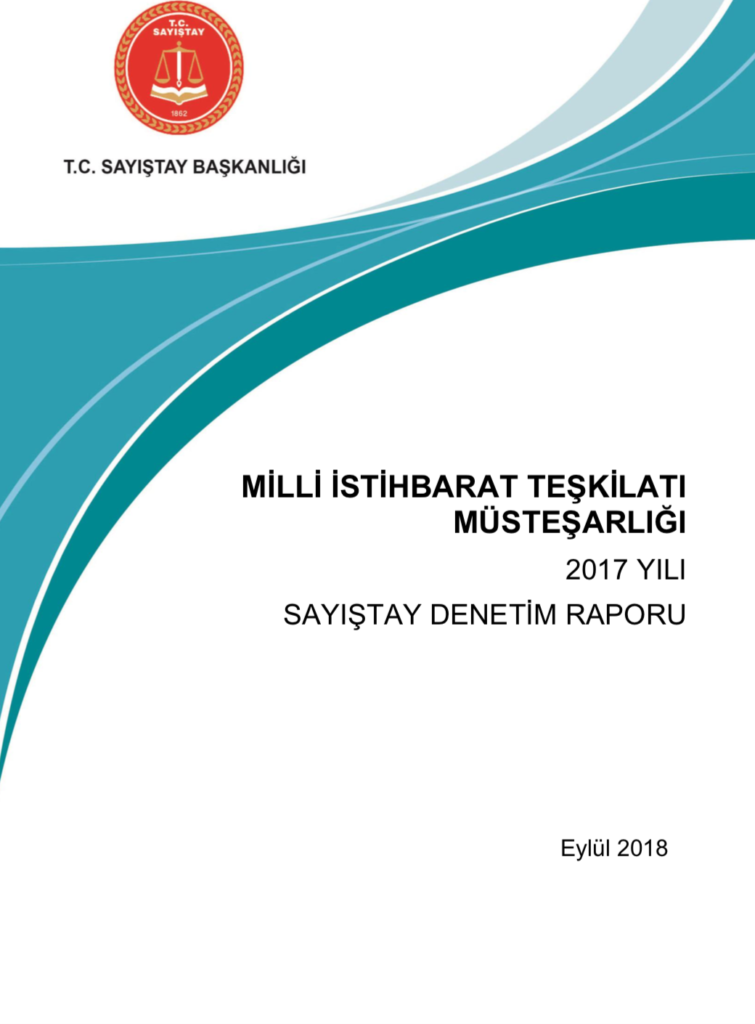 According to the state audit report for the year 2017 by the Court of Accounts, the chief accounting office that reviews expenditures by government agencies that are funded with taxpayer money, the active assets of the spy agency increased from TL 834 million in 2016 to TL 2,9 billion in 2017. The report also included a new expenditure item in its budget that was not there in the previous audit which showed the agency had TL 821 million listed in its "ongoing investments account."
This is a huge figure that can only be explained by the fact that the funding of some covert operations was buried in a new budgetary line item and described as an investment for the agency in properties and other schemes. It was nothing but window dressing to avoid accountability and transparency. Nevertheless, the Court of Accounts still made the point in its report that shortcomings in the classification of expenditures by MİT persist and asked the agency to bring forward more reliable accounting to adequately explain the use of taxpayer funds in line with laws and regulations.
Some of MİT's clandestine operations are funded by a slush or discretionary fund, called "Örtülü Ödenek" in Turkish, which is used by President Erdoğan as he wishes. Except for the figures reported for expenditures, no explanation has been provided to the public to justify spending on this budget item. Three people appointed by Erdoğan simply whitewashed the spending, decided it was used for stated purposes and then destroyed the paper trail for these expenditures. In the first eight months of 2018, the spending of slush funds was posted as TL 1,3 billion. Another secret fund that was provided under the line item of capital expenses in the budget has also reached TL 2,7 billion.
In addition to tapping the slush fund, MİT received TL 2 billion from the central budget in the fiscal year 2017, which amounts to 0,3 percent of all government expenditures. This figure was a generous increase of 22 percent compared to the 2016 budget. The data show the agency spent TL 827 million in payroll for intelligence agents in 2017 and TL 453 million for intelligence operations.
What is more, MİT took TL 623 million in a three-year period between 2015 and 2017 from the multibillion-dollar Turkish Defense Industry Support Fund (SSDF), an extra-budgetary resource for a defense that is managed by the Undersecretariat for the Defense Industry (SSM). In a surprise move in 2014, the Erdoğan government granted the agency access to this fund, which was intended for the procurement of defense and military materiel for the Turkish Armed Forces (TSK). The Turkish military resisted MİT's access to this fund in its initial years but was forced to give in after Erdoğan and MİT orchestrated a false flag coup bid in July 2016 that enabled the Islamist rulers to purge hundreds of senior generals and officers from the ranks on fabricated charges.
Although the funds that were coming out of taxpayers' money for the intelligence agency can be identified in rough numbers without details, there is no way of making an estimate as to how much money the notorious MİT controls in illicit funds such as commissions that were taken from trans-border criminal syndicates like drug and arms traffickers. Some of the business activity run by al-Qaeda and affiliated groups in the border areas with Syria and Iraq was deliberately allowed by the Turkish government in exchange for MİT being able to tap some of the funds generated from such business schemes. Some off-the-book operations were funded by these activities so that they cannot be traced back to the Erdoğan government.
Since 2016, the agency has also been involved in a new profiteering scheme from unlawful seizures of companies by the government in a blatant abuse of the criminal justice system. The profiling of firms operated by critics of Erdoğan was done by MİT, albeit illegally, and later referred to prosecutors' offices and courts for seizure warrants. The Erdoğan regime has seized over 1,000 companies valued at some $11 billion in the last three years. In some cases, MİT operatives threaten and blackmail businesspeople with the seizure of their assets unless they agree to engage in espionage on behalf of the Erdoğan government in foreign countries.
Unfortunately, there is no way of holding the intelligence agency to account in Turkey, which is tightly controlled by a dictator – Erdoğan — who destroyed legislative and judicial oversight mechanisms, wiped out the independent and critical media and killed NGOs that work on the transparency of the security branches of government. MİT under the leadership of pro-Iranian lackey Hakan Fidan is nothing but a posse that hunts down legitimate critics, opponents, and dissidents. For the hunting parties, Erdoğan has granted the agency more money than MİT probably ever dreamed of getting in the first place. (turkishminute.com)